Efficient | Thorough | Easy to follow

Pest Prevention and Cure
The Pest Control Reporting system we leave on your site is a critical part of our Pest Control service. Once we've completed our work, we'll complete a pest control inspection report as well as other important information relating to the inspection. This documents all the data from our visit – from the basic legal aspect, through to detailed checklists, advice and recommendations.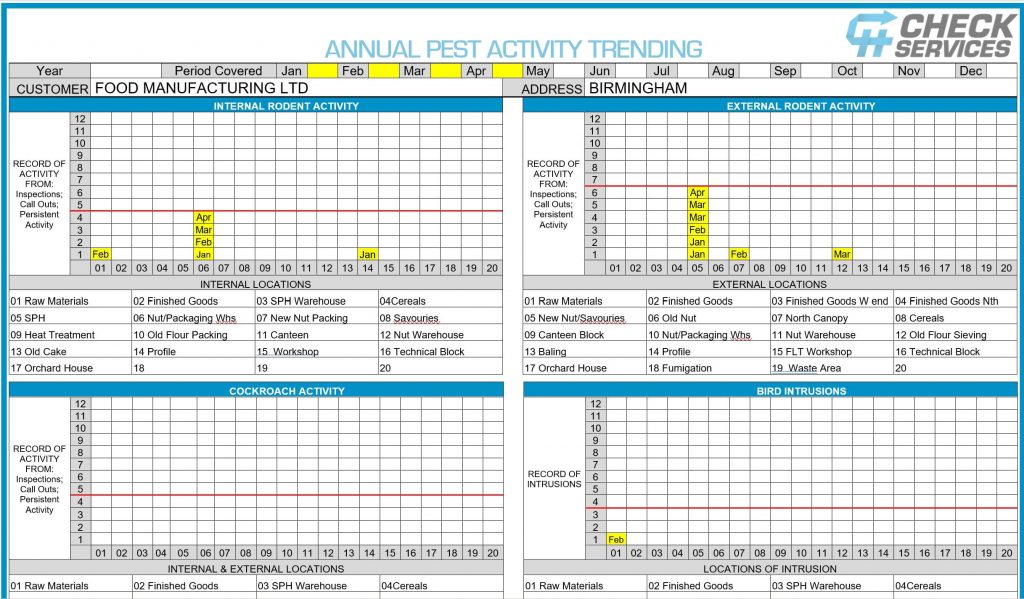 Pest Control reporting for audits – ensuring 100% compliance
If your company handles food or food contact products, you will almost certainly undergo regular audits. The Pest Control Service and Report Folder are an important element of most external audits, requiring thorough and accurate pest control information to be available to them.
Our reporting systems and services are constantly evolving to ensure 100% compliance. We are vastly experienced in dealing with all the major auditing bodies operating in the UK and beyond.

However large or complex your business – be it production or storage, we will supply full risk assessments and method statements (RAMS) for all work to be carried out.
Main site Pest Control inspection report sheet
The core of the reporting system are the completed inspection report sheets. All other information should feed to, or from, this document. The quality of this information can make the difference between an informed customer, and a customer 'left in the dark'.
We've designed our systems to allow us to maintain the flexibility of the written word – avoiding the generic 'drop-down tabs' of PDA systems. At the same time, we've introduced technology to increase the flexibility and speed of the information we provide to our customers. We have a blend of online and written systems that complement each other.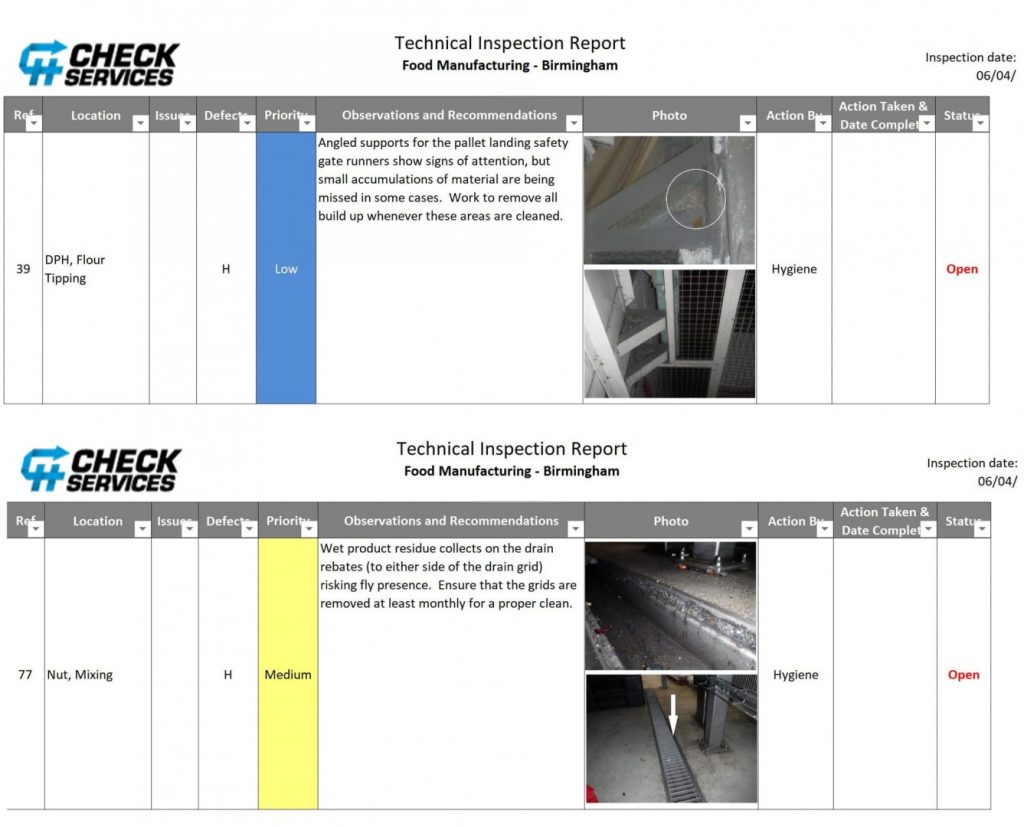 Your Pest Control Reporting folder
Your report folders keeps in one place all the information associated with the pest control contract. This includes
Monitor checklists and trending information
Fly killer checklists and trending information
Site plans showing locations of all monitors and fly killers
Risk assessments, safety data sheets and COSHH assessments
Key contact information and staff training records
Insurance certificates and details of trade association memberships
Biologist / Technical Inspections
We deliver these highly-detailed inspection reports electronically. You can edit elements of them yourself to include actions taken and any other relevant information. The reports also include a summary of the visit as well as trending information, which enables you to draw up a comparison over time. This enables you to measure pest control improvements on your site.
The report is an Excel document and as such can be filtered. For example, a report can be generated that only mentions, for example, engineering issues on Production Line 1, or stored product insect (SPI) issues in a Packing Line. This gives your reports added and useful flexibility.
Find out more about Pest Control Service Reporting and documentation. For a service that's efficient, thorough and affordable – get in touch today.

Call our nationwide number today – 0118 9323755
email – admin@checkservices.co.uk
BESPOKE SERVICE
Tailored to suit you